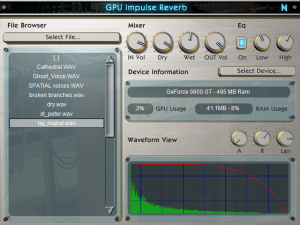 GPU Impulse Reverb VST is an effect plugin that calculates convolution reverbs by using your graphics card as DSP for realtime reverb calculation with a CPU usage of near 0%.  Any consumer graphics card that supports OpenCL (NVIDIA / ATI or others) can be used without any need for other specific hardware. All common VST hosts are supported, such as Cubase, Nuendo, Reaper, Fruity Loops and others.
Features include…

Low latency, only one ASIO block size
Supports Stereo & True Stereo processing (quad-channel impulse responses)
Supports 16, 24 and 32 bit responses
Supports as many instances as your GPU can handle
2-Band EQ
Adjustable Attack/Release & Length Envelope
File Browser for easy access of IRs
…and much more
See the demonstration video below to get an impression of what it can do for you.